Las noticias más relevantes de septiembre 2018 en Technology HUB
The most relevant news of September 2018 in Technology HUB
30 de agosto
HUBtalk: "Cómo facilitar el aprendizaje de idiomas" por James Dewane
James compartió consejos y tácticas eficaces usadas por políglotas para aprender nuevos idiomas.
August 30
HUBtalk: "How to make language learning easier" by James Dewane
James shared practical tips and tactics used by polyglots to learn new languages.
6 de septiembre
Exposición: "Escenarios de incertidumbre"
La plataforma cultural HUBarte, en conexión con Technology Hub, presentó la exposición "Escenarios de incertidumbre, Retrospectiva (1992-2018)" de César Cabrera, un proceso curatorial y museográfico de Luis Pegut. La exposición continuará hasta enero de 2019 en los edificios Tera y Mega de Technology HUB.
September 6
Art Exhibition "Escenarios de Incertidumbre"
The HUBarte cultural platform, in collaboration with Technology HUB, presented the exhibition "Escenarios de Incertidumbre, Retrospectiva (1992-2018)" by César Cabrera, a curatorial process by Luis Pegut. The exhibition will continue until January 2019 at Technology HUB's Tera and Mega buildings.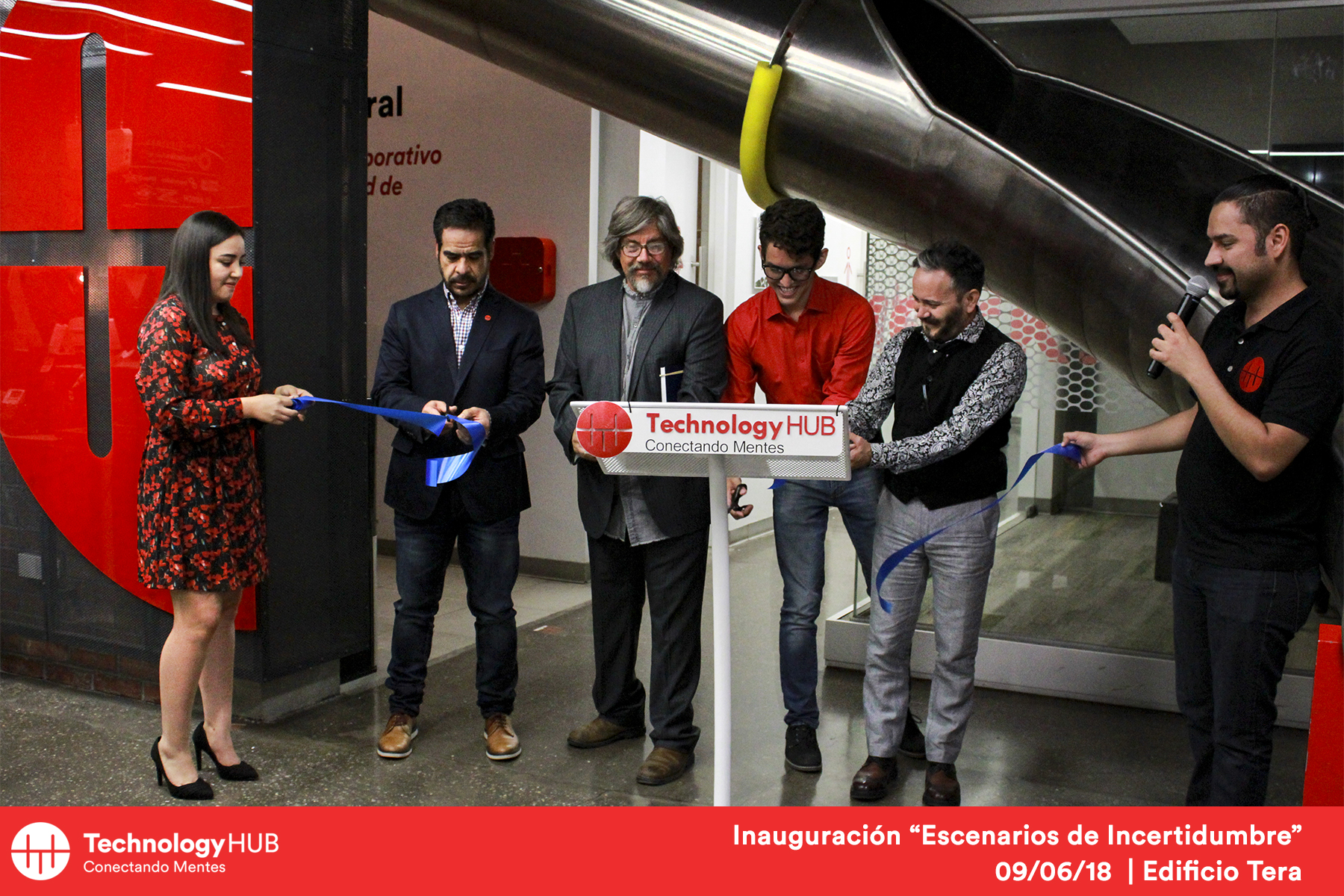 6 de septiembre
HUBtalk: "Los que triunfan lo hacen a propósito" por Arturo Rodríguez
Arturo Enríquez Rodríguez, colaborador de empresas como Kalish y Procter & Gamble, demostró que los sucesos externos son sólo una impresión física del mundo interior de las personas y por lo tanto tienen la capacidad de cambiar su realidad.
September 6
HUBtalk: "Those who achieve triumph do it on purpose" by Arturo Enríquez
Arturo Enríquez, collaborator at companies such as Kalish and Procter & Gamble, demonstrated that external events are only a physical impression of people's inner world and therefore can change their reality.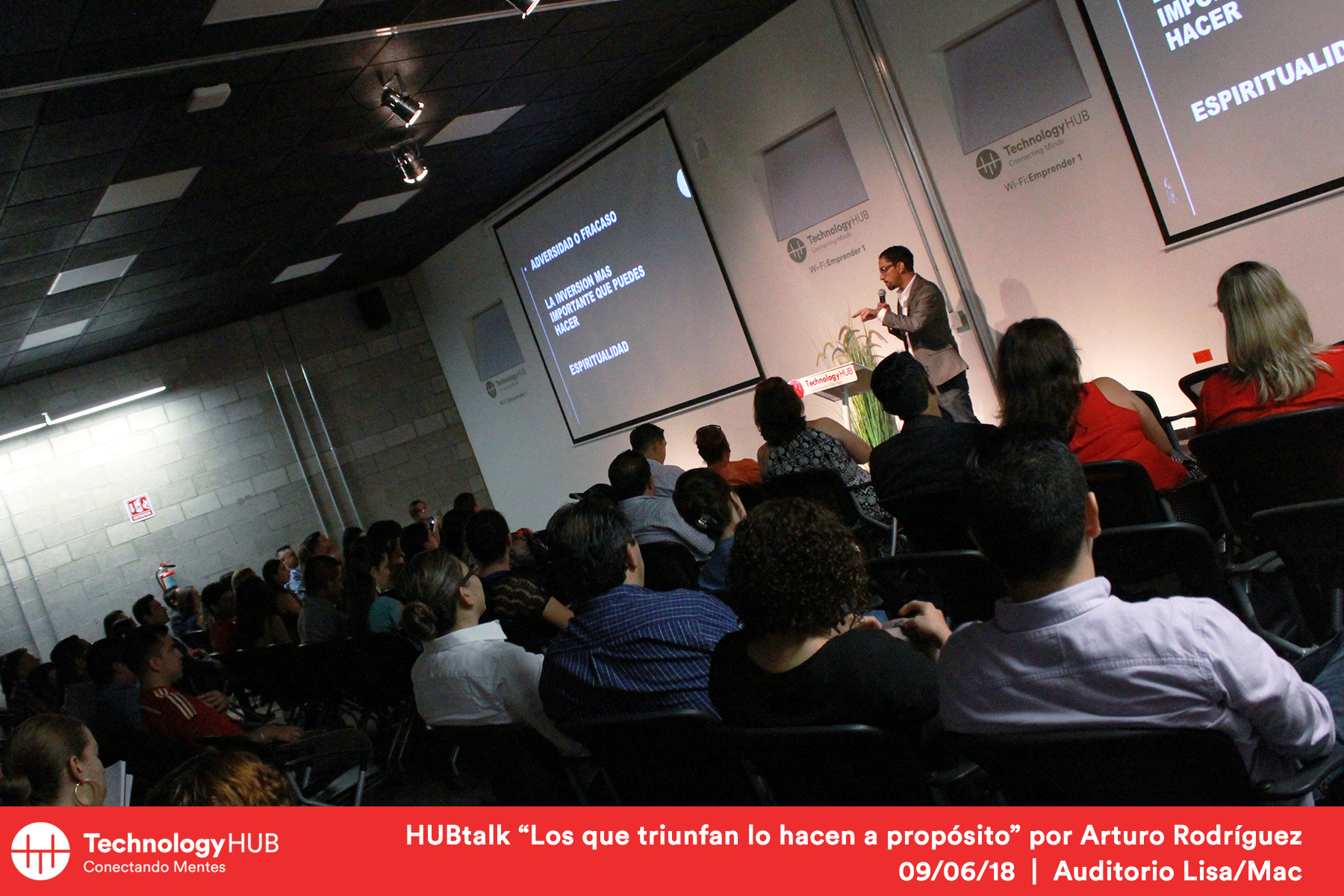 8 de agosto
Capacitación Border Market Tech
Un grupo de emprendedores miembros del ecositema de Technology HUB recibieron un curso de capacitación previo a su participación en Border Market Tech, el evento binacional más grande para empresas que generan tecnología e innovación en la región fronteriza.
August 8
Training Workshop for Border Market Tech event
A group of entrepreneurs, members of the Technology HUB ecosystem, received a training course before their participation in Border Market Tech, the largest binational event for companies generating technology and innovation in the border region.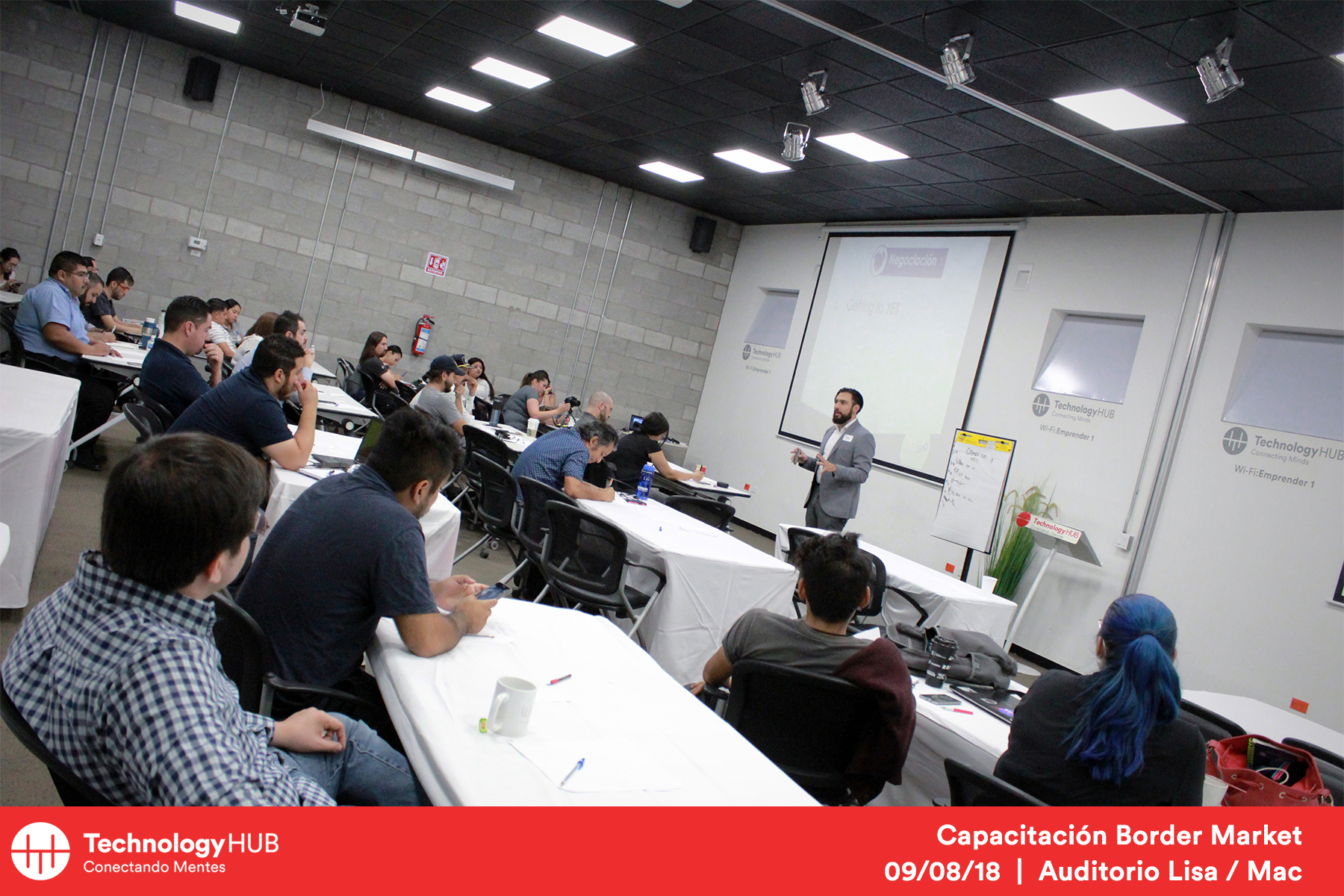 10 - 14 de septiembre
Technology HUB en la #SemanaDelEmprendedor 2018
Technology HUB estuvo presente en la Semana Nacional del Emprendedor, con sede en el Centro Cívico Banamex en CDMX, apoyando a emprendedores de todo el país.
September 10-14
Technology HUB at Mexico's National Entrepreneurs' Week 2018
Technology HUB was present at the National Entrepreneurs' Week 2018 at "Centro Cívico Banamex" in Mexico City, supporting entrepreneurs from all over the country.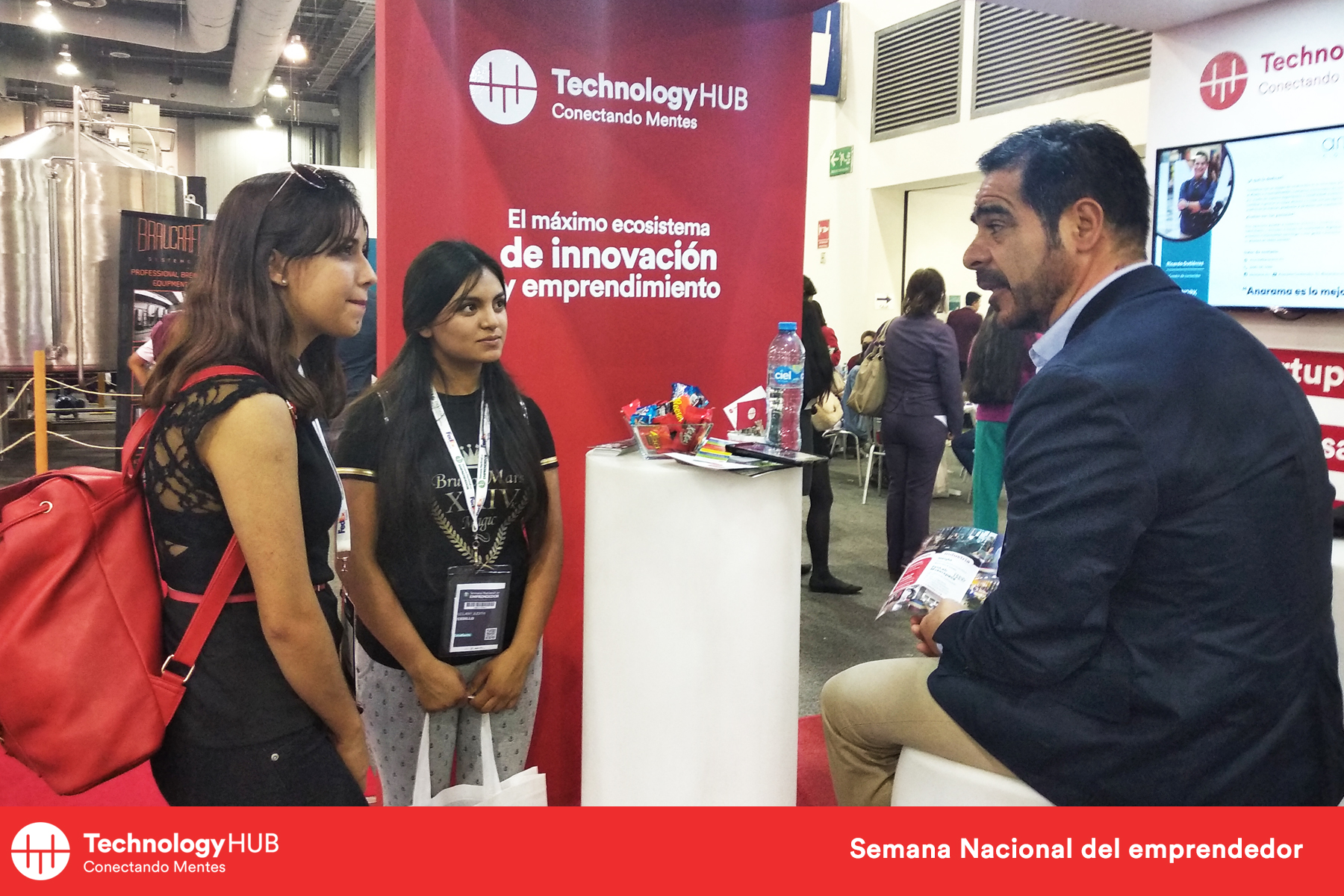 20 de agosto
Visita presidente de Microsoft instalaciones de Technology HUB
Un equipo de la empresa Microsoft, encabezado por su presidente Brad Smith, visitó las instalaciones de Technology HUB con el motivo de reunirse con empresarios, miembros de la academia y organizaciones no lucrativas para discutir temas de apoyo para la región a través de la tecnología. Después de la visita a Technology HUB, también visitaron el evento Border Market Tech, donde tuvieron una reunión privada con emprendedores locales.
August 20
Microsoft's president visits Technology HUB
A team from Microsoft, led by its president Brad Smith, visited the Technology HUB facilities and met with business people, members of academia and nonprofit organizations to discuss ways in which to support the region through technology. After leaving Technology HUB, they also visited the Border Market Tech event where they held a private meeting with local entrepreneurs.
21 de agosto
Mujeres Emprendedoras: "El Emprendimiento desde un enfoque holístico"
Abril Fournier, coach de salud holística, habló sobre la importancia de integrar el amor propio como motor para generar abundancia y convertir tu pasión en tu misión, no sólo desde la mente si no desde el corazón.
August 21
"Mujeres Emprendedoras": "Entrepreneurship from a holistic approach"
Abril Fournier, holistic health coach, spoke about the importance of integrating self-love as an engine to generate abundance and turn your passion into your mission, not only from the mind but also from the heart.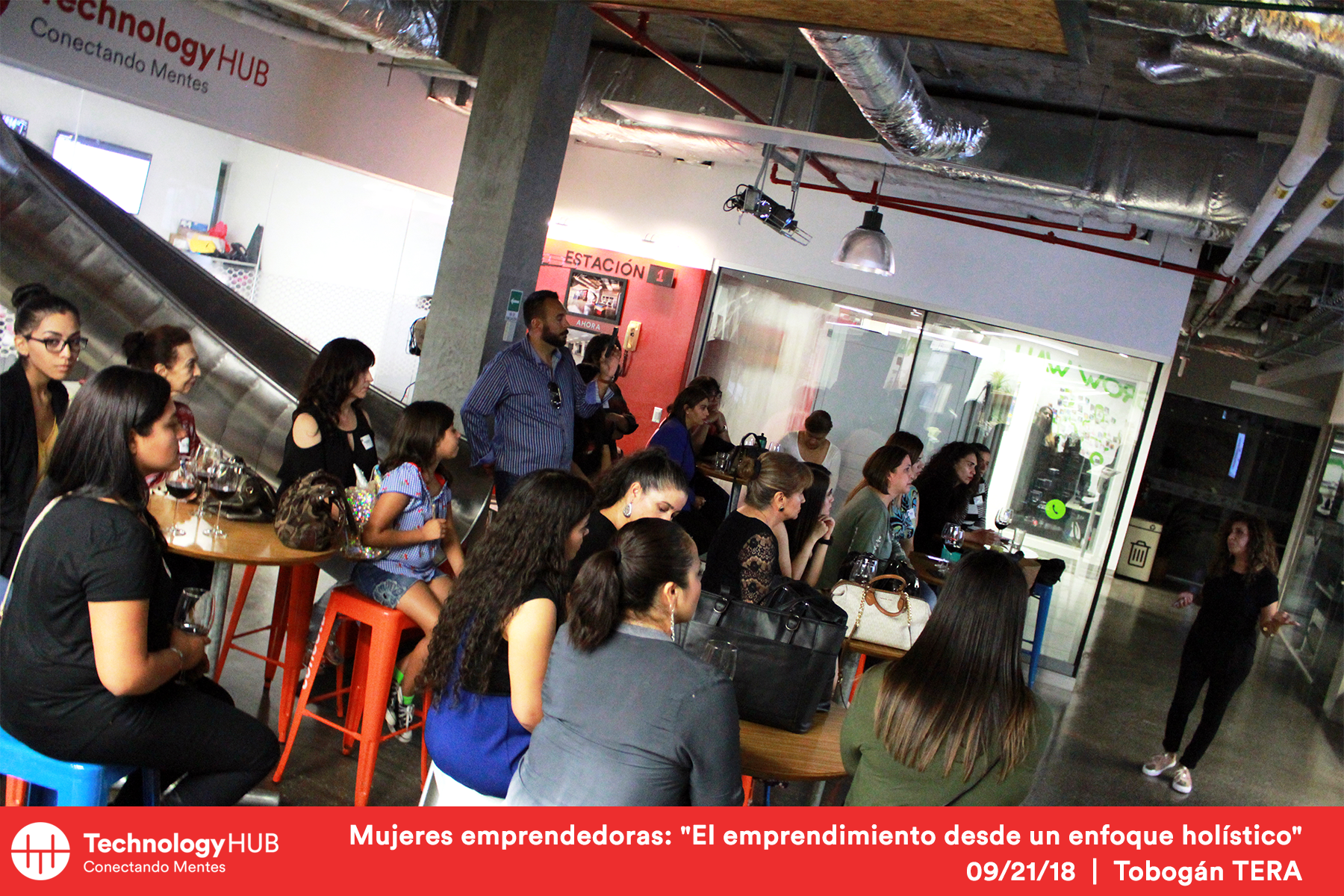 21 de agosto
Inner Circles: Fiesta Mexicana
Para celebrar el aniversario de la independencia de México, los HUBbits celebraron con una fiesta muy mexicana con tacos, tequila y mariachi incuídos.
August 21
Inner Circles: Mexican Fiesta
To celebrate the anniversary of Mexico's independence, HUBbits celebrated with a very Mexican party including tacos, tequila, and mariachi.
23 de Agosto
Colecta Sueños: Fiesta con Cliché
Un grupo de voluntarios de Colectas Axcel organizó una fiesta en el Parque Borunda para recabar fondos destinados al apoyo de casas-hogar en Ciudad Juárez. Se recolectaron juguetes nuevos y los asistentes difrutaron de música en vivo con el Grupo Cliché.
August 23
"Colecta Sueños" Toy Drive & Party
A group of volunteers, from "Colectas Axcel", organized a party at Ciudad Juárez's Borunda Park to collect funds for the support of children homes in the city. New toys were collected and attendees enjoyed live music with "Grupo Cliché".