On Thursday, September 20, 2018, Technology HUB welcomed a team from Microsoft led by its President and Chief Legal Officer, Brad Smith; he was accompanied by Carol Ann Browne, Director of Executive Communications and Jonathan Childress, Community Engagement Manager.
In a meeting with Technology HUB's top management team along with local government officials, business community leaders, members from academia and nonprofit heads from both sides of the border, Brad Smith and his team addressed Microsoft's initiatives aimed at empowerment through the use of technology.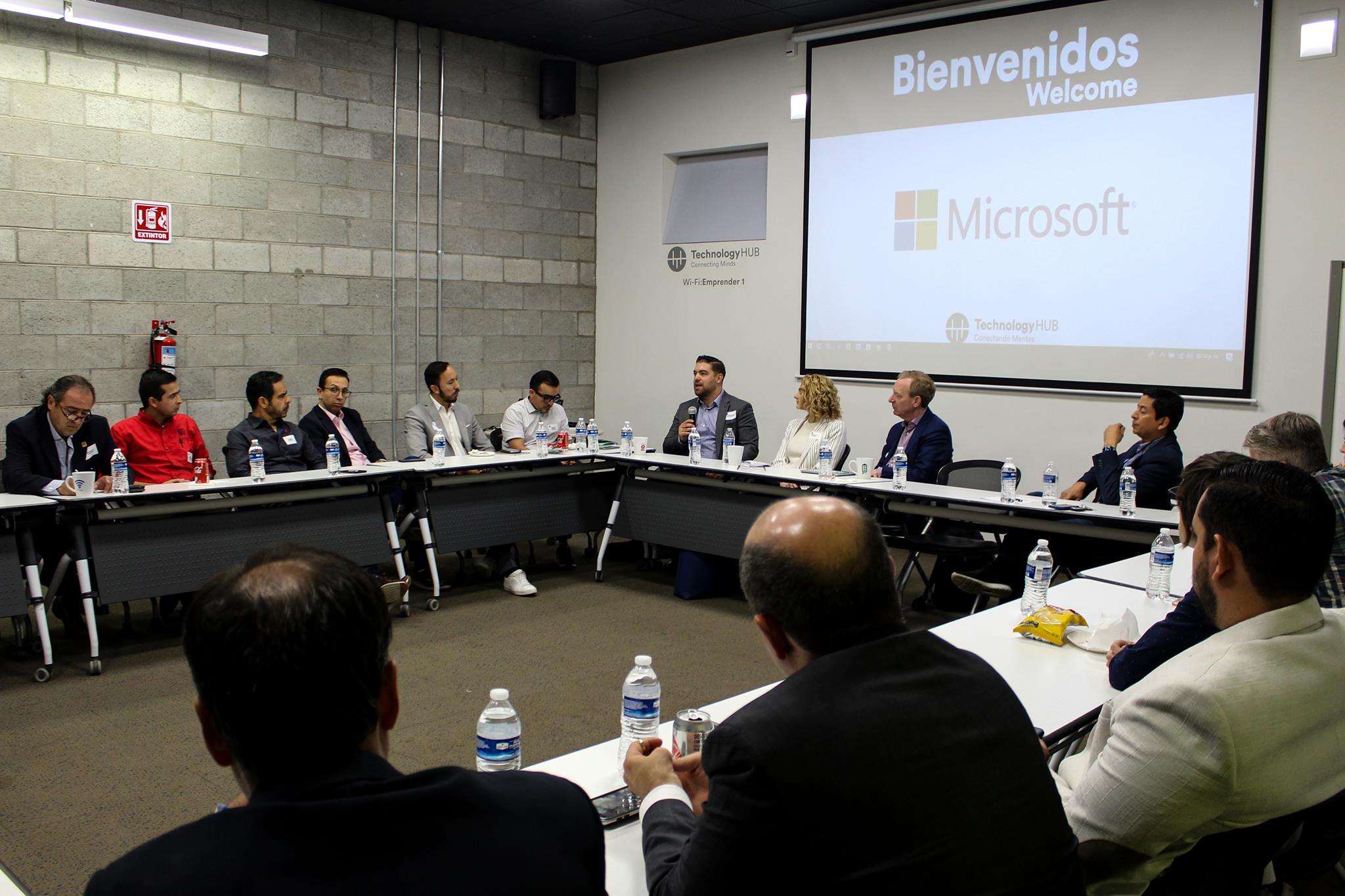 One of the main topics discussed was the Microsoft TechSpark initiative which focuses on five program areas:
Digital transformation initiatives: Help local businesses and institutions improve their work and grow faster
Digital skills and computer science education
Career pathways: Partnering with educational institutions to expand learning opportunities for adults of all ages.
Access to broadband: Improving access in urban areas, and making access possible in rural counties
Support for nonprofits
The TechSpark program has partnered with six communities along the United States, El Paso, Tx., being one of them. Once Mr. Smith and his team arrived in El Paso, they realized the deep connection it has with Ciudad Juárez. Because they believe communities can accomplish more when they partner, they decided to cross the border to learn more about what we do in Juárez and see how Microsoft can actively participate in the region.
"We believe more in bridges than walls and there may be some new bridges that we can build together." - Brad Smith
Following the meeting at Technology HUB and a tour of the facilities, the Microsoft team paid a visit to "Border Market Tech," an event bringing together all that is most relevant in industry 4.0, robotics, artificial intelligence, drones, 3D printing, smart cities, IT, CT and IoT, from the border region. There, they had a private meeting with Juárez's entrepreneurs.
"Border Market Tech" is an initiative of the Chihuahua State Government and the Ministry of Innovation and Economic Development. During the opening ceremony, the Chihuahua State Governor, Javier Corral, spoke on the effort Ciudad Juárez is setting forth in distancing itself from the stereotypes and identifying itself as a place full of talent, business opportunities, and support for entrepreneurship.
Technology HUB along with several companies and independent professionals, who are members of its ecosystem, participated in the event.
Author: Alba Nidia Batista
Style Editor: Laura Marcela Mora
Photographs: HUBmedia by Technology HUB
Cover Photo: (From Left to right) Carlos Martínez-Vela, President and CEO at The HUB of Human Innovation; Nancy Estrada, Executive Director at Fundación Axcel; Rudy Vázquez, CIO at Technology HUB; Jonathan Childress, Community Engagement Manager at Microsoft; Carol Ann Browne, Director of Executive Communications at Microsoft; Brad Smith, President and CLO at Microsoft; Ricardo Mora, CEO at Technology HUB; Rubén Ramírez, CFO at Technology HUB